The fastest teeth straightening method
Fix crooked teeth without braces
If you want to fix one or two crooked teeth in a short period without braces, Instant Straight Teeth or Instant Smile treatment is the answer. Instant Straight Teeth method is a quick way to correct crowded anterior tooth overlap, eliminate gaps and straighten teeth without traditional metal braces. It's a fast and quick teeth straightening method for those who want an instant smile makeover. Unlike conventional orthodontic treatments, which can take months or years to complete, Instant Straight Teeth uses a combination of porcelain veneers, crowns, and bonding to achieve comparable results in a short amount of time.
When thinking about orthodontic treatment, it is natural to think about metal braces and other orthodontic appliances. Orthodontic appliances may be needed in severe cases, but this is not always the case. Because the teeth move and shift constantly, people who have undergone orthodontic treatment tend to have their teeth misaligned.
This quick and fast procedure is beneficial for patients whose aesthetic concerns do not affect smile function. The processes built into the Instant Straight Teeth method can quickly hide various cosmetic issues and create a bright and attractive smile. Candidates for Instant Straight Teeth should have healthy teeth and no significant bite problem.
Instant Straight Teeth is also suitable for patients whose teeth are slightly misaligned after wearing orthodontic appliances. However, many candidates who have never received orthodontic treatment (for example, the patients in the pictures have never received conventional orthodontic treatment) receive Instant Smile treatment.
Instant Straight Teeth can improve your teeth' appearance with a few office visits, rather than the 12 months or more generally required for traditional orthodontic treatment.
Instant Straight Teeth can correct mild to moderate tooth misalignment, including:
Crowded teeth
Twisted teeth
Slant teeth
Gaps between teeth
Damaged tooth (Enamel the outermost part of a tooth)
Tooth discoloration
Are your front teeth your only crooked tooth, and do you have good oral health without gum disease? Can you fit your back teeth together easily? If your answer is "Yes," then the Instant Straight Teeth or Instant Smile method can fix crooked teeth and get you straight teeth. We welcome you to discuss whether the fast teeth straightening option is suitable for you.
Instant Straight Teeth treatment uses:
Porcelain veneers: Porcelain veneers used in the Instant Smile treatment are cosmetic dentistry's more subtle and versatile options for a beautiful smile. The dental veneers are thin, translucent layered material placed over a tooth to improve a smile's aesthetics. These lightweight shell-like materials can correct broken teeth, uneven teeth, spaces between teeth, length, shape, and color with minimal natural teeth preparation. They offer a new and improved smile, reflecting the natural tooth shade, form, and texture.
Dental crowns: A dental ceramic crown covers the entire tooth structure. The dental crown not only offers the same cosmetic benefits as a veneer but can also restore the strength and integrity of damaged teeth.
Dental bonding: Dental bonding treatments use a composite resin on one or more teeth to correct cosmetic problems such as chips and cracks.
The advancements of modern technology and ceramic materials can straighten the teeth without wires, reshape, and brighten teeth to offer the appearance and functionality of the smile you've always dreamed of in a couple of visits. It is an alternative way to fix misaligned teeth!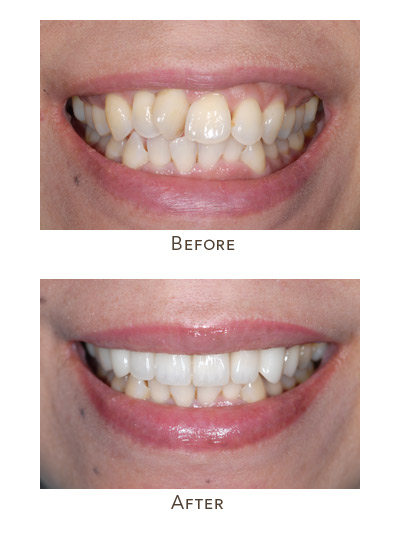 To learn more about Instant Orthodontics (Fast teeth straightening method) or to
schedule
a free consultation, contact our office at
(281) 531.0710
.
Giving people the smile they want is our passion!
About Us
Dr. Shimizu is an accredited member of the American Academy of Cosmetic Dentistry. There are 417 dental professionals worldwide (Only six in Houston area) as of 2021 who have achieved this prestigious honor.
Our Contacts
11757 Katy Freeway, Suite 960, Houston, TX 77079